PR success? It's all about strategy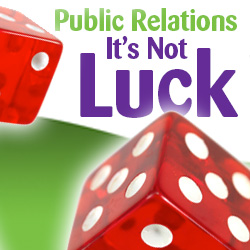 Award-winning publicist, Kathy O'Brien brings nearly two decades of experience encompassing both corporate and agency work to Jaffe PR.  As both an in-house marketer and a publicist with agencies in New York and Connecticut, she appreciates both sides of the public reputation curve – as the client at the top, and the service provider helping customers get there. Kathy understands PR challenges (more than any veteran publicist I know!).
Her recent post on the Jaffe PR Blog brought up the issue of the common misconception that all PR folks face, and that is the fact that many people really do believe that public relations is a crap shoot – that publicists simply sit in front of their computers all day long, sending out press releases (and in my case, posting tweets, blogs, updates and comments on new digital and social media) in hopes that something will stick and end up in the New York Times.
"Here is a news flash – it really doesn't work that way," Kathy says, "PR is and always will be about building relationships with the press and telling a great story in a way that perfectly captures the value you provide. The only way to get there is with a proper PR strategy instead of a 'shoot from the hip, fingers crossed' approach." Please read Kathy's article here.